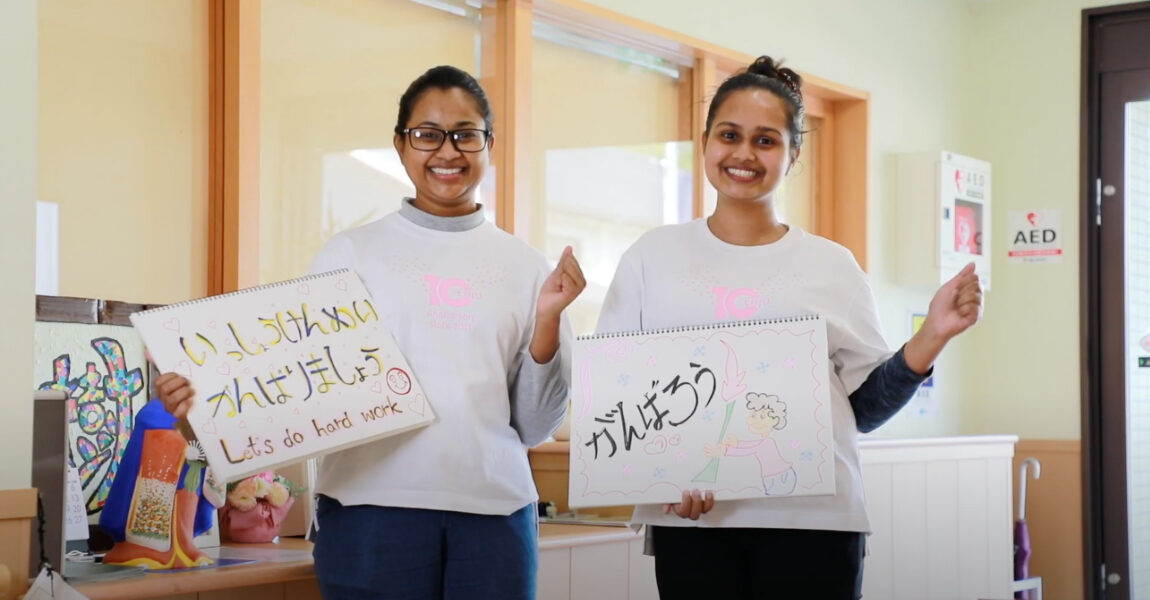 We interview Kauindya Sithumini and Ashini Nimesha, who are from Sri Lanka and live in Nagasaki prefecture.
Kauindya Sithumini
・Country of origin : Sri Lanka
・Year of arrival in Japan : 2021
・Status of residence : Technical Intern Trainee
・Japanese skill : JLPT N3
Ashini Nimesha
・Country of origin : Sri Lanka
・Year of arrival in Japan : 2021
・Status of residence : Technical Intern Trainee
・Japanese skill : JLPT N3
Interview
Why did you come to Japan? What made you decide to come to Japan?
I came to Japan as a technical intern trainee to learn nursing care.
I wanted to go to Japan after graduating from high school, so I studied Japanese and came to Japan.
What sparked your interest in becoming a care worker?
Taking care of the elderly people is considered a precious thing in my religion, therefore I was interested in making use of it as a job.
I chose to work in as a nursing care because I have loved taking care of my grandmother and grandfather since I was a child.
What makes you feel rewarded and happy about doing care work?
The most enjoyable times for me are when I am doing recreational activities with the users and am talking with them.
What I enjoy the most is talking to the users about various things.
What are the good points about the nursing care facility you are currently working in?
The good points are that all the staff members are working together, following the leader's instructions, and if I don't understand something, everyone is willing to teach me.
I think the good point is that everyone works in harmony, and if there is something you do not know, the senior people teach you.
What are the good points about the region you are currently living in?
I like that there is a lot of green countryside and mountains around, instead of buildings.
I think the good thins about this area is that it is rich in nature and has many tourist attractions.
What are the most impressive memories and episodes of your life in Japan?
I can't talk about just one episode because from the day I arrived in Japan until today I have been living in all new experiences. This life itself is an unforgettable memory.
I have many unforgettable memories, but the day I first arrived at the company is the most memorable.
What makes you happy about working as a care worker?
I am happiest when I see the users are healthy and joyful because of my care for them.
I was most happy to see the smiles on the faces of the users when I did recreational activities with them.
What was your first experience working as a care worker?
It was my first time working as a nursing care worker, so everything I did was a new experience for me.
Nursing care was my first job, and I learned a lot from doing the job.
Did you find any nursing care work to be difficult?
While fully understanding the limited capabilities of the users, I think it is difficult to watch over them and provide assistance to prevent accidents from happening.
The hardest part is that I have to think about and help the users so that they don't have any accidents because they are not well and cannot do things by themselves.
Have you ever been praised by a user of the nursing care facility? What kind of words did they use to praise you?
When I gave the users a bath, they said to me "You have gotten good at giving a bath, you are used to it now. Thank you very much for your service, and I hope you will do it again sometime." The users also said, "Thank you for everything. Because of your support, I am doing well."
After I took a day off, a user once said to me, "You had a day off yesterday. I was so lonely without you." Also, once when a user got out of the bath, the user said to me, "Your nursing care in the bath was good. Thanks to you, I felt good."
After working as a care worker, has the image of nursing care service changed?
No, nothing has changed regarding my image of nursing care.
No, nothing has changed regarding my image of nursing care.
After working as a care worker is there anything from that experience which you find useful to your life?
In order to start a nursing home, which is my dream, it is very important for me to study and experience nursing care in Japan.
My goal is to start a nursing care business for the elderly after I return to my country, so I think what I am learning here now is the most important thing.
What are your goals and dreams for the future?
I would like to use the knowledge and experience that I learned in Japan and use it to build a nursing home back in my home country of Sri Lanka. I would like to be the president of the nursing home and use it to take care of my family and lead a happy life.
My dream is to build a nursing care facility when I go back to my country, and I hope to succeed using the nursing care skills that I am learning with Japanese technology.
What is your message to those who are thinking of being a care worker in Japan?
In nursing care service, the most important thing is for the users to be healthy. To be more precise, it is important to take care of not only the physical health of the users, but also their mental health. When you talk to users, please smile, be polite, and speak to them in a way that is easy to hear and understand. The level of necessary care varies from user to user, so please be careful when providing care to them. Please take care of your own health and physical conditions as well. Truly, nursing care is a job that makes the heart happy.
It is important to think about details in order to avoid accidents, because the physical condition of the users varies from person to person and from day to day.
How did you study Japanese and care work?
In addition to learning about nursing care work and Japanese from colleagues and teachers, I watched nursing care videos on YouTube by myself, and practiced reading and writing kanji. I made an effort to use Japanese when I was talking to my friends or on the phone. I also studied Japanese while watching Japanese TV even after arriving in Japan.
I studied Japanese by reading kanji and watching Japanese TV. I also downloaded apps for kanji and grammar and studied them by myself.
How long have you been studying Japanese since you came to Japan?
I've been in Japan for about 10 months now, and I'm still studying Japanese.
I have passed the N3 exam and will continue to study Japanese.
What do you think is difficult to study Japanese?
There is a lot to remember about Japanese kanji, words, etc. It becomes difficult if you don't use Japanese all the time.
It is difficult for me to read Kanji.
What are some ideas and tips for improving Japanese language skills quickly?
You should always think and speak in Japanese, and watch Japanese anime and movies. If you work hard and study hard, your Japanese will get better.
I think your Japanese will improve if you look up words you do not know by watching Japanese TV and by reading newspapers, and also use by using apps to study on your own.
What was difficult about studying for the care work?
It was difficult for me to understand the Japanese used in nursing care work.
I had to learn a lot of things, because we use many different words in our daily nursing care work.
Was there any difficulty getting information about nursing care jobs once you learned about the jobs but before arriving in Japan? How did you resolve this problem?
I've studied nursing care, but I can't get it 100% into my head until I actually do it.
I had never worked as a nursing care worker before, and this was my first job, so there were many things that I did not understand and could not do well. For these, I was in a bit of trouble.
What do you do on your days off?
I enjoy my holidays by riding my bike to different places, going shopping, and singing songs with Ashini.
On my days off, I go shopping, play games with my friends, and visit various places.
What is your favorite Japanese food?
I love yakisoba and chicken curry.
My favorite food is dry curry.
What do you feel is very different between your country and Japan?
Some of the things that are different from my country are: taking off clothes and going in together at a Onsen, vending machines that I can buy whatever I want, how to ride a bus or train, and eating food with chopsticks.
There are no vending machines in Sri Lanka. Also, in Sri Lanka, I never took a bus or soaked in a bath, so I was very surprised when I came to Japan.
Where is your favorite scenic spot in Nagasaki?
Inasayama, Huis Ten Bosch, and the Penguin Aquarium.
There are many tourist places I like to visit, because Nagasaki is a tourist destination. The Megane Bridge is one of them.
What advice would you give to people in your own country who are thinking about coming to Japan?
Japan is a very clean and advanced country with amazing technology. There are four seasons, and the climate changes with each season. You have to manage your own physical condition within those seasons. Japanese people are very punctual, so please be on time and do your work carefully. Please try to go to beautiful places on your days off, save money, and have fun.
Japan has four seasons. Due to the hot and cold weather, it is easy to get sick. It is important to take care of your health while working. It is also important to work while thinking about the physical condition of the users. Please always smile and stay healthy.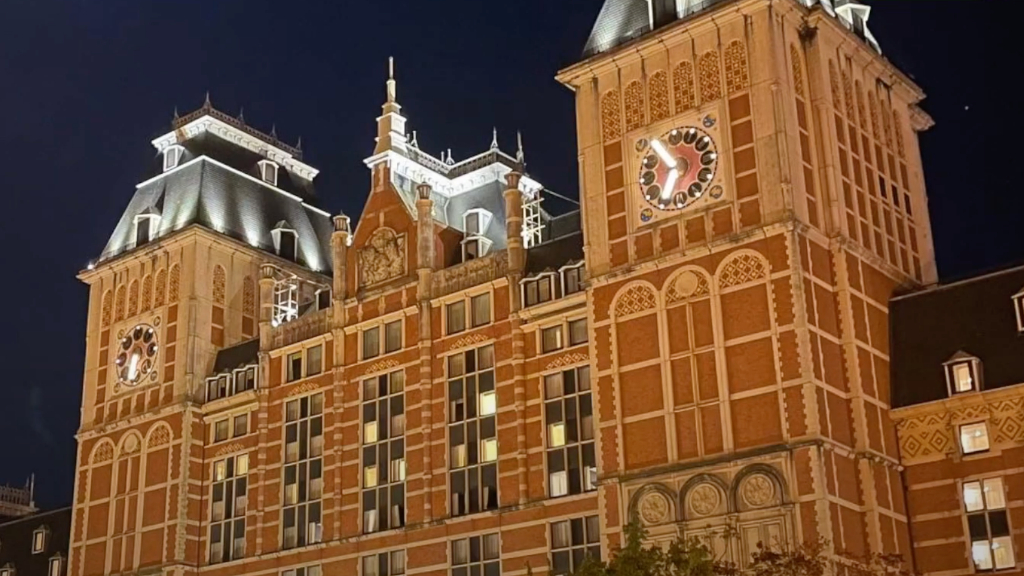 Contents: