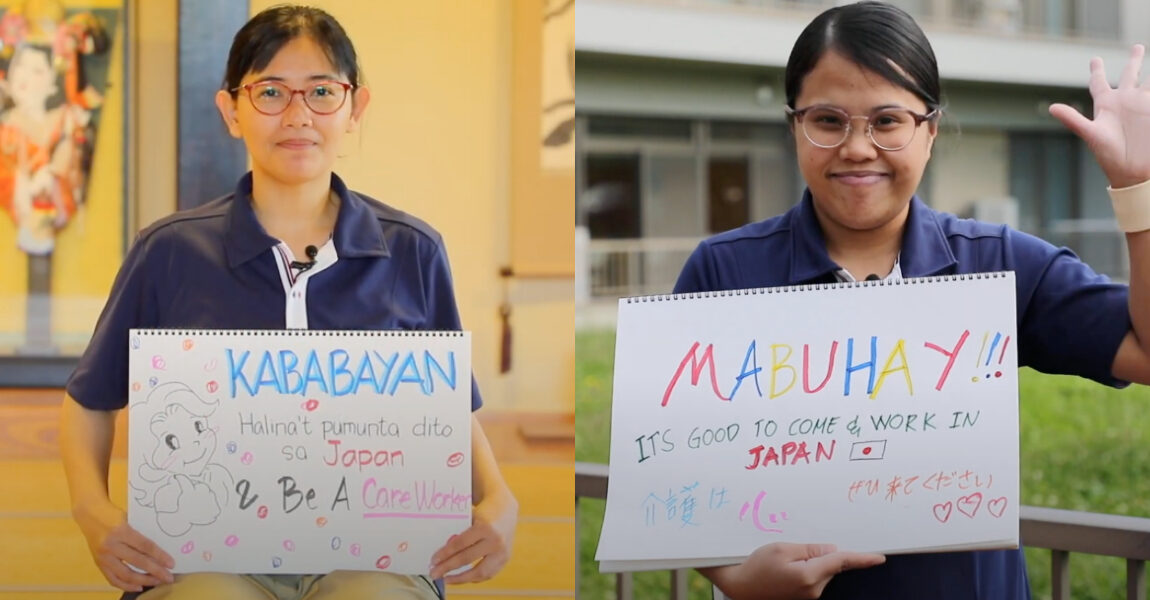 We interview Lovely Estorgio and Marie Stella Vi S.Moreno, who are from Philippines and live in Nagano prefecture.
Lovely Estorgio
・Country of origin : Philippines
・Year of arrival in Japan : 2016
・Status of residence : Nursing Care
・Japanese skill : N3
Marie Stella Vi S.Moreno
・Country of origin : Philippines
・Year of arrival in Japan : 2016
・Status of residence : Nursing Care
・Japanese skill : N2
Interview
Why did you come to Japan? What made you decide to come to Japan?
I came to Japan to study. I want to study abroad and work in Japan.
Coming to Japan was my dream since I was young. The salary in Japan is higher than in my country, so I want to give my parents a good life.
What sparked your interest in becoming a care worker?
I'm interested in nursing care work. I like to take care of people.
It was my dream to come and work in Japan. For me, the duties as a nurse or a care worker are almost the same as in my country.
What makes you feel rewarded and happy about doing care work?
I'm happy when seeing users' smiles and when they say "Thank you".
What are the good points about the nursing care facility you are currently working in?
My nursing care facility is next to Suwa Lake, so I can see the fireworks from here in the summer. The staff here are very nice and helpful.
What are the good points about the region you are currently living in?
Currently I live in a rural place in Nagano prefecture, and things here are pretty cheap. I can also save a lot of money.
What are the most impressive memories and episodes of your life in Japan?
It was winter when I first was here. The weather was very cold and the scenery was white and beautiful that I thought it was just a dream. After graduation, I became a care worker and it was changed my life so far.
What makes you happy about working as a care worker?
I'm satisfied with this job. I love the elders and taking care of them. When they say "thank you" and smile, I feel really happy.
Did you find any nursing care work to be difficult?
Japanese is difficult at first but it becomes easy if you practice it many times. And the job is also hard without patience and effort.
Have you ever been praised by a user of the nursing care facility? What kind of words did they use to praise you?
You did your best, "Good job"… I love it when my users praise me. Also, the staff here did compliment "Lovely, you did your best. Thank you for your hard work". I'm very excited.
After working as a care worker, has the image of nursing care service changed?
A care worker's job is not only to support users and the elders but also to respect their feelings. Besides, it is also to support them with what they can still do now. That becomes my image of a care worker.
What are your goals and dreams for the future?
I want to bring my parents to Japan and live here for a long time.
When I return to my country, I would like to build the my very own nursing care facilty as this one. I want to help people in my country know about how to take care of the elders.
What is your message to those who are thinking of being a care worker in Japan?
Nursing care is a promising occupation in Japan.
My message for those who are thinking of being a care worker in Japan is "There are a lot of opportunities for you here as a care worker and Japan is a very safe place to work and live in."
How did you study Japanese and care work?
I was studying Japanese by watching anime and watching Japanese movies. And I was studying Japanese for about 2 years at a Japanese school. After that, I entered a certified care welfare vocational school.
What do you think is difficult to study Japanese?
The hardest part is kanji. I have to study it from the beginning. I also have to study a lot of hiragana and katakana.
In Japanese, grammar and kanji are difficult there are also honorifics,…I can not remember them at all.
What are some ideas and tips for improving Japanese language skills quickly?
I remember 5 to 10 words every day. I also watch anime and Japanese dramas and talk to Japanese people.
I think to improve Japanese skills, you should speak Japanese frequently, read books, watch movies without subtitles.
How did you study for the "Certified Care Worker" exam? What are the teaching materials and study methods you used?
I use "Kaigo Navi". It's quite convenient. It helps me understand and remember vocabulary and kanji easily. I read it many times. I also read all the textbooks both in English and Japanese many times.
How many hours a day did you study for the test?
When I was in the second year, I started studying for the nursing care test. I went to school from 9 am to 4 pm and when I got home I studied for about 2 hours. When I was on my day off, I spend about 4 hours studying myself.
What was difficult about studying for the test?
Kanji and vocabulary are the most difficult. There are also so many specialized terms in nursing care that I have to study.
What do you do on your days off?
I can't go anywhere now because of Coronavirus, so I'm spending almost time in my room surfing SNS or Facebook, texting messages with my friends and relatives. I also have a YouTube channel and become a youtuber. Besides, I also TikTok videos or cooking.
When I'm on my day off, I watch anime and movies at home. Besides, I clean my house. I don't go outside so much, so I want to go outside, but because of corona virus, I can't go.
What is your favorite Japanese food?
My favorite food in Japan is donburi, katsudon, tendon, gyudon, oyakodon. It is really delicious.
The first Japanese food I ate was takoyaki, so I love it. And I also like yakisoba, which is a little like Pancit in my country. Yakisoba and Pancit are made in the same way.
Where is your favorite scenic spot in Nagano?
Matsumoto Castle in Nagano Prefecture is very famous. It is close to Shiojiri, so it will take 30 minutes to go by train. Besides, at Christmas, the illuminations in Azumino are so beautiful. There are also many ski resorts in Nagano prefecture, and I like skiing too, but I couldn't do it well.
My favorite place is Tateishi Park. This park is on the mountain. From there, you can see all the scenery of Suwa Lake. It's magnificent. The scenery of Suwa Lake, which was a scene in the anime "Your Name".
What advice would you give to people in your own country who are thinking about coming to Japan?
Studying Japanese is very important. From the beginning, you have to study basic Japanese such as greetings, vocabulary, hiragana, katakana, and kanji.
Nursing care job is really rewarding. I learn Japanese and skills. And the most important thing is that I have to focus on my goals and be patient. I will cherish it.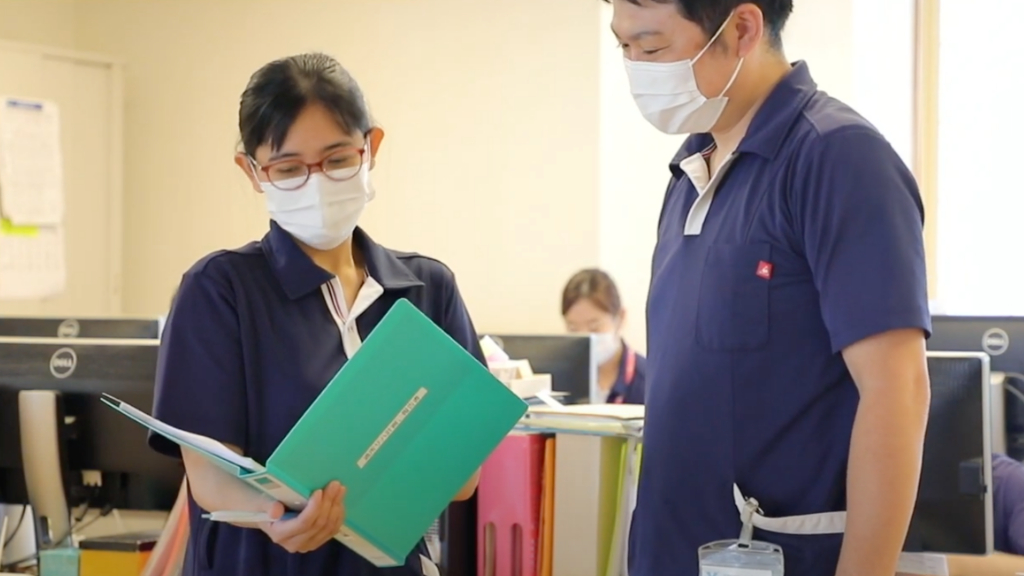 Contents: