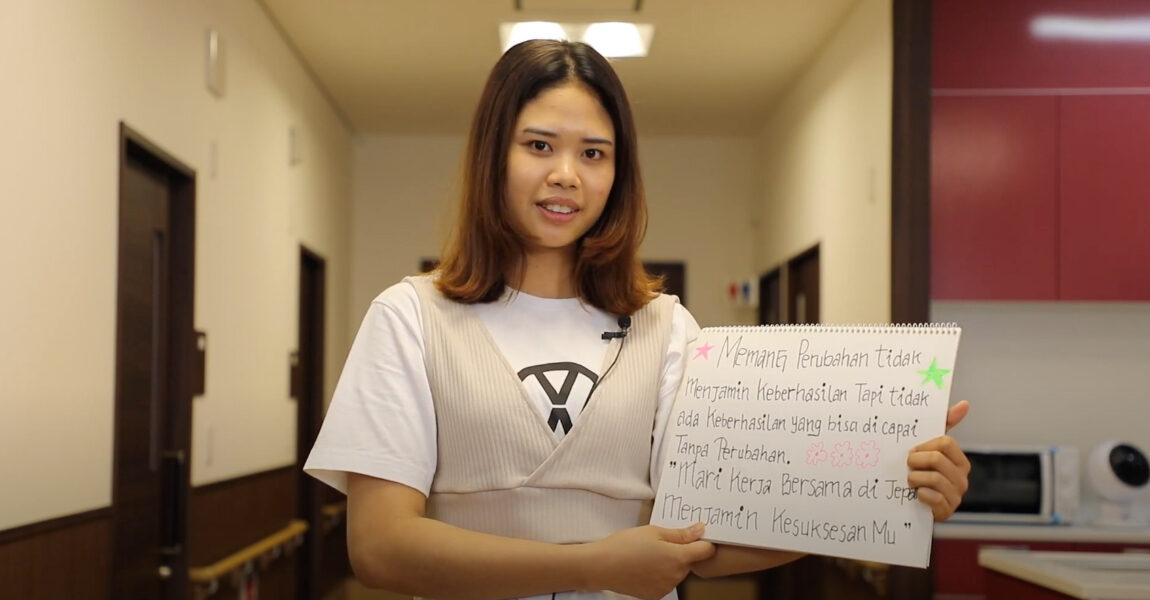 We interview Ayu Purnama Dewi, who is from Indonesia and lives in Okayama prefecture.
Komang Ayu Purnama Dewi
・Country of origin : Indonesia
・Year of arrival in Japan : 2018
・Status of residence : Technical Intern Trainee → Specified Skilled Worker (I)
・Japanese skill : N2
Interview
Why did you come to Japan? What made you decide to come to Japan?
I came here because I aspire to work as a nursing care worker and I'd like to support my family financially.
What sparked your interest in becoming a care worker?
I'm interested in working in Japan because I used to work in a hospital. From my previous experience, I'd like to learn about nursing care services in Japan such as Japanese style and culture.
What makes you feel rewarded and happy about doing care work?
When I first arrived in Japan, I experienced a lot of difficulties, especially in communication, the lack of knowledge and understanding of the Japanese language. I also felt worried because my job requires me to speak, listen, and write in Japanese.
What are the good points about the nursing care facility you are currently working in?
My current workplace has a daily care facility and a nursing care facility for the elderly. I work in the nursing care facility. When I just started working, I had some concerns because I'm a foreigner, but the staff and the elderly are very warm and friendly. The staff taught me a lot of things, from the Japanese language to nursing care skills. In my opinion, this is a comfortable place to work.
What are the good points about the region you are currently living in?
The environment where I live is very nice and clean, away from crowds, and close to work. It takes me about three to five minutes to get to work. My place is also close to pharmacies and clinics.
What are the most impressive memories and episodes of your life in Japan?
There are seasonal changes every year, such as spring where the cherry blossoms bloom, summer where the weather is very hot, autumn where I can see the falling leaves, and winter where I can see the snow. I feel very cold in the winter. I usually wear three layers of shirts and pants.
What makes you happy about working as a care worker?
I can learn Japanese while working and gain skills and knowledge about nursing care. I feel that I'm proud to be able to work in Japan.
What was your first experience working as a care worker?
I provided nursing care related to bathing and toilet needs. I got to learn the methods of nursing care and realized that there're difference between male and female users.
Did you find any nursing care work to be difficult?
The first thing that I find difficult is giving assistance in moving. If I used the wrong technique, it would hurt the waist of the person I've helped to move. I learn from my seniors, but I need a long time to think about how I should do it and to master the technique. In my opinion, this method is very difficult. The second is giving assistance at mealtimes. Everyone has a different method. I have to maintain a good body position at the time of performing the action, and the action I perform must be in accordance with the correct method.
Have you ever been praised by a user of the nursing care facility?What kind of words did they use to praise you?
The staff and the elderly usually compliment me by saying, "You have good Japanese language skills." When I'm working, I often receive compliments like, "You did a great job. You're neat and polite." The elderly often think of me as a Japanese person.
After working as a care worker, has the image of nursing care service changed?
In my opinion, working on a very tight schedule is difficult. In terms of nursing care knowledge and skills, there is not much difference from what I've known before. In my opinion, the staff and the elderly are very friendly.
After working as a care worker, is there anything from that experience which you find useful to your life?
First, I've got to learn about the things I didn't know before. Second, I've got to see the changes in the body condition of the elderly. Third, I can share the knowledge that I've learned to my family and other people around me.
What are your goals and dreams for the future?
I want to keep learning the Japanese language and I aspire to work as a certified care worker.
What is your message to those who are thinking of being a care worker in Japan?
This job is very difficult and carries a high risk of injury. However, this job has allowed me to learn Japanese easily and quickly. I think this work is very beneficial as it's useful for my future.
Who taught you about nursing care when you were in your country?Who were you talking to about something you didn't understand?
I've learned about nursing care in a vocational high school. Before I went to Japan, I learned nursing care knowledge and skills from my lecturers. Whenever I have questions, I would discuss them with the company staffs and the instructors here.
How did you study Japanese and care work?
I practice my language skills by communicating with the staffs and the elderly here. I practice my listening skill and memorize vocabulary by watching YouTube, Japanese dramas, and Japanese news on the television. I also practice Japanese exam questions every day.
How long have you been studying Japanese since you came to Japan?
I don't study every day. When I have free time, I usually study for approximately 3 hours.
What do you think is difficult to study Japanese?
Things that I find difficult while learning Japanese are memorizing Kanji and reading comprehension, such as 'dokkai'.
What are some ideas and tips for improving Japanese language skills quickly?
To improve my Japanese language skills quickly, I listen to Japanese songs, watch Japanese dramas, and keep practicing. I always try to communicate with the staff and the elderly in Japanese. If there are things that I don't understand, I don't feel shy to ask them.
Was there any difficulty getting information about nursing care jobs once you learned about the jobs but before arriving in Japan? How did you resolve this problem?
I dreamt of working in Japan and studying at a Japanese language school. I was informed that I could learn Japanese while working as a care worker in Japan. However, my financial condition wasn't too good. I had no other choice but to borrow money from the bank. In my spare time, I worked part-time to earn for my school fees and to repay the loan I got from the bank. I also worked in a hospital. It was a very hard time for me.
What do you do on your days off?
On my holidays, I usually go shopping for daily necessities, clean my apartment and cook.
If I have a plan with my friends, I hang out with them. I also study in my spare time.
What is your favorite Japanese food?
I like all kinds of Japanese cuisine, but I like sushi and miso soup the most.
What do you feel is very different between your country and Japan?
Japan has a different culture and customs.
Where is your favorite scenic spot in Okayama?
Washū-zan tenbodai. From this place, I can see the Seto Bridge.
What advice would you give to people in your own country who are thinking about coming to Japan?
I've experienced a lot of difficulties, especially in the Japanese language and cultural adaptation. However, I feel very glad to be working in Japan. I've also gained knowledge and experience that will be beneficial for my future. I got the opportunity to learn about Japanese culture and enjoy Japanese food. I come from a low-income family, and that's also the reason why I came and work in Japan. Preparation to go to Japan requires a lot of time and money. Nevertheless, I believe in myself and my ability. I have a strong determination to work and live in Japan.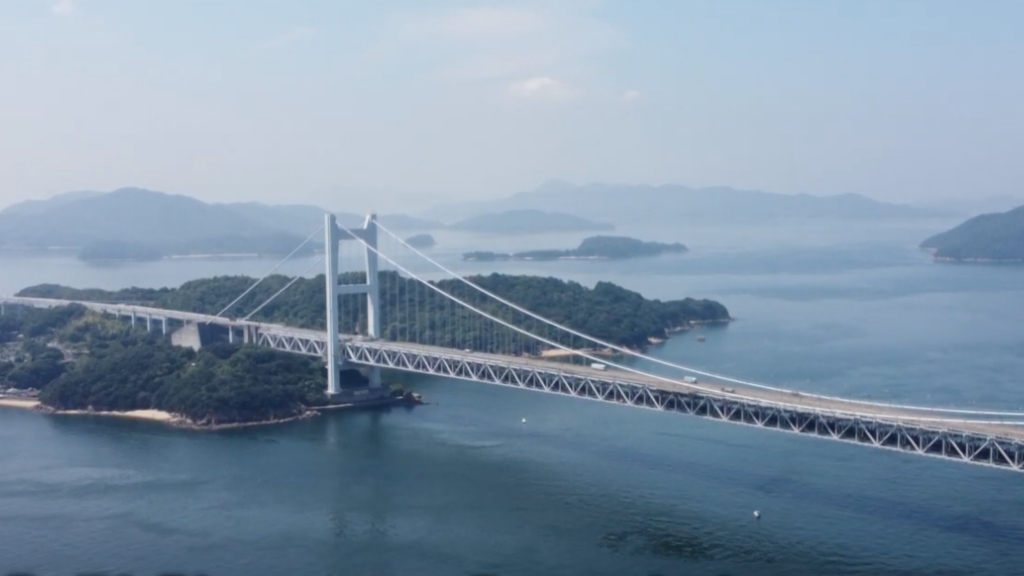 Contents: