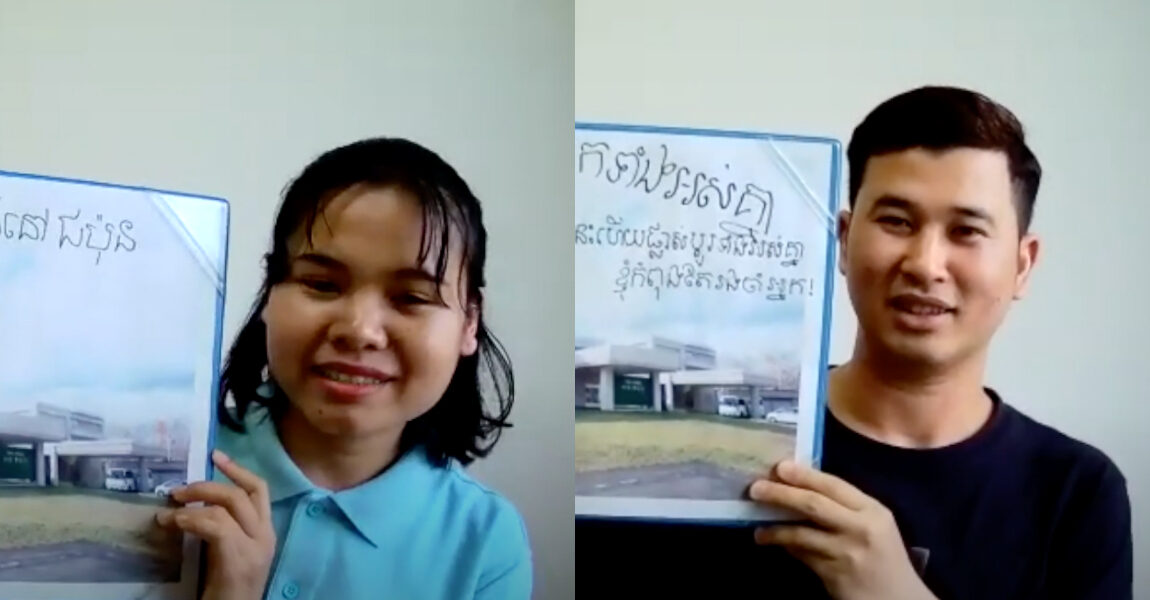 We interview Moeurn Sray Pov and Ry Sopheap, who are from Cambodia and live in Hokkaido.
Moeurn Srey Pov
・Country of origin : Cambodia
・Year of arrival in Japan : 2020
・Status of residence : Specified Skilled Worker
・Japanese skill : JLPT N4
Ry Sopheap
・Country of origin : Cambodia
・Year of arrival in Japan : 2020
・Status of residence : Specified Skilled Worker
・Japanese skill : JLPT N3
Interview
Why did you come to Japan? What made you decide to come to Japan?
I came to Japan because I want to work in Japan, earn care work experience from Japan, and know Japanese life.
I came to Japan because I love and like Japan which is a beautiful country. Moreover, I want to earn many experiences.
What sparked your interest in becoming a care worker?
I'm interested in care work because I love elderly people and want to help them until their late life.
I have interested to be a care worker and that is why I came here. I want to assist elderly people who don't have ability to do by themselves.
What makes you feel rewarded and happy about doing care work?
It makes me happy and motivates me when old people are cheerful, smile back at me, and praise me.
I'm happy when I have worked as a care worker. After half year's work, I can speak Japanese with elderly people fluently and well. So, I felt very happy.
What are the good points about the nursing care facility you are currently working in?
My working facility has several good points. The best point is that my colleagues are friendly. When I don't understand and ask them, they teach me to until I understand.
What are the good points about the region you are currently living in?
There are no earthquakes where I live. I am allowed to plant some vegetables in the field, so I do not need to buy them. I do have to buy meat, though.
What are the most impressive memories and episodes of your life in Japan?
My favorite memory from this place was the hot springs. When I entered a hot spring, I felt so good.
What makes you happy about working as a care worker?
I am happy to take care of the elderly people and see if they stay healthy. Also, I feel happy when Japanese people are kind and helpful.
Did you find any nursing care work to be difficult?
My difficulty was when I moved elderly people from a chair to a wheelchair. However, if you master enough techniques, it is not difficult anymore.
Have you ever been praised by a user of the nursing care facility?What kind of words did they use to praise you?
The users always compliment me on how hard I work, how good I am, and how cute I am.
What are your goals and dreams for the future?
My goal and dream are to pass JLPT N2 after living in Japan for 3 to 5 years. Then, I will return my country as successful person or capable person to run a company.
As I love nursing care work, I set a goal to pass the exam of Certified Care Worker to develop myself better.
What is your message to those who are thinking of being a care worker in Japan?
What I would like to tell people who are going to work as a care worker that sometimes what you hear in rumors and what you actually do are different things. I am not worried about this job, and the work we do here is similar to what we studied in school.
My messages are, first you should study technical words that will be useful in your work. And second, you should practice and watch videos related to real practice.
How did you study Japanese and care work?
When I was at school, I studied care work' skills for 4 hours in the afternoon, and I studied Japanese vocabulary for 4 hours in the morning. Then, in the evening, I practiced them. The most important thing were technical words and practices.
How long have you been studying Japanese since you came to Japan?
It is a good idea to study while we are working. For me, I always study approximately 1 hour every day because I want to take an exam. When I had day off, I spent much more time to study.
What do you think is difficult to study Japanese?
In Japanese language, the most difficult thing is Kanji because Hiragana is not much used here.
What are some ideas and tips for improving Japanese language skills quickly?
To improve my Japanese language, I always watch TV, talk to my colleagues, and listen to them. Then, my Japanese will be improved.
How many hours a day did you study for the test?
I studied 8 hours a day in school, and I also took time to study myself at home. For me, I never went outside. When I was waiting food I had ordered, I took that chance to study Japanese through my mobile phone. After I got up in the morning, I always memorized 50 words a day and reviewed the lessons before I went to school, and I previewed the lesson after I came home.
I studied over 4 hours a day, 1 hour for grammar, 2 hours for vocabulary and 1 hour for listening. Especially, I focused on technical words for approximately 1 to 2 hours.
How long did it take to pass the test?
I spent 1 year in order to pass both specialty and Japanese language. At the time, my Japanese level was just N4.
What do you do on your days off?
On my days off, I cleaned my room, washed clothes, hanged out and took a rest 1 to 2 hours. Because I planted some vegetable, I watered them and removed the grasses.
When I have days off, I take a rest at home, and hang out nearby my house and go to the gym.
What is your favorite Japanese food?
I like Misoshiru because this soup is like Cambodian soup that I can add some vegetable. Besides, I like salmon because it is delicious.
I like Sushi, raw fish, and Sukiyaki.
Where is your favorite scenic spot in Hokkaido?
Because I'm working in Hokkaido, the most beautiful places are ski resorts because I could see white, beautiful snow. And flowers are also beautiful in this season. Because Japanese people in this region always plant flowers in front of their houses.
I don't know much about the beautiful places in Hokkaido. Because of Covid 19, I haven't travelled yet.
What advice would you give to people in your own country who are thinking about coming to Japan?
It is not the wrong decision for people who want to come for working. Please don't think Hokkaido is too cold. Even though it is cold, we have Japanese style thick sweaters and we don't work outside. As we work indoors at the facility, we feel warm and there is no problem. The most important thing is that we should study hard about the skills of nursing care and Japanese language because when we can speak and listen fluently, all will be fine.
I want you to study the Japanese language, technical words, and care workers skills. Because Japan is good and beautiful, and Japanese people are kind, you don't have to worry. Let's challenge together!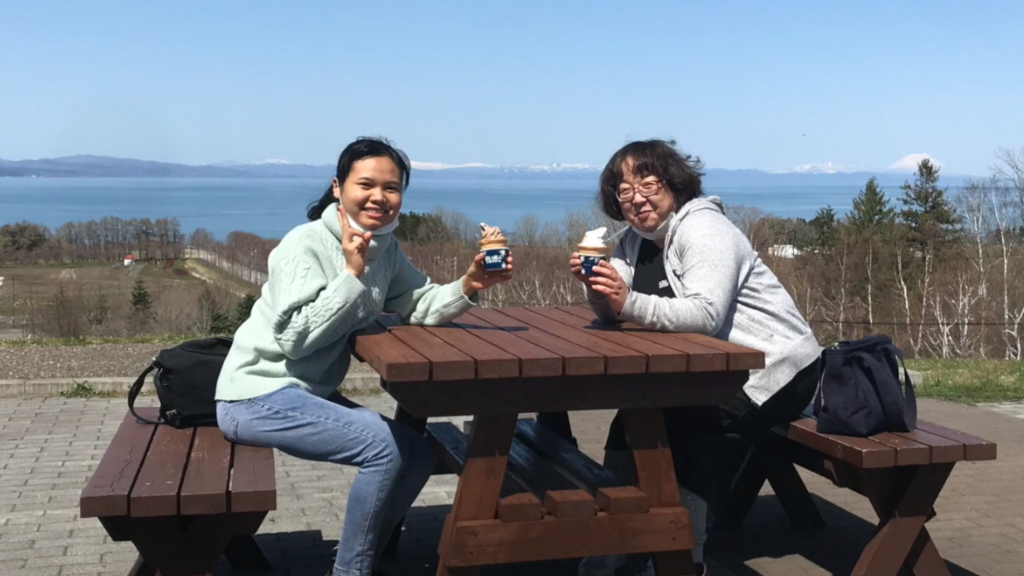 Contents: