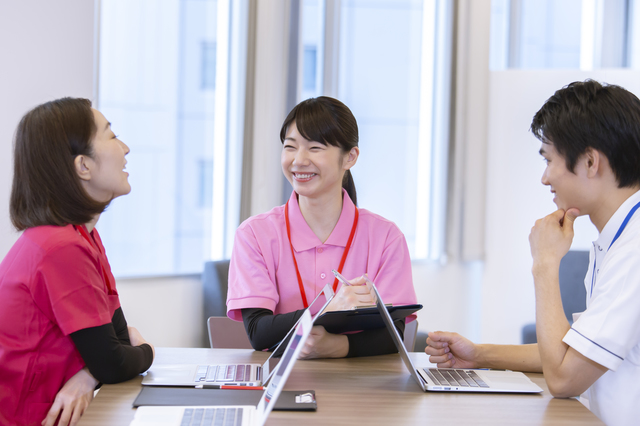 Presently, there are many care workers from abroad working in nursing care facilities all over Japan. What is it like to work in a new environment in a different language? We tried to find out through questionnaires and interviews with foreigners who have experience as care workers in Japan. We also have some advice from experienced folks for those of you who are thinking of coming to Japan. If you are interested in working as a care worker in Japan, please use this as a reference.
Contents:
What was your most memorable experience as a care worker?
The job of a care worker assisting the elderly and disabled in their daily lives is a very important job with a lot of responsibility. Even so, you can still make a lot of memories through communication with the users, events at the facility, etc. What kind of memories can you make as a care worker in Japan? First, we had them tell us about the fun times they remember:
・"Afternoon snack was a fun, memorable time. At that time, while facility users would gather in the hall to eat their snacks, they would talk to, sing songs with, and play games with the care workers. Seeing all the elderly people laugh and be happy made me feel happy, too. Also, even the busy care workers could relax a bit then." (Mr. Albert Fernandez from the Philippines, facility in Okayama Prefecture)
・"We made and sold Vietnamese pho at a facility event. It was such a huge hit that we sold out in about an hour. I remember feeling so happy when the facility users and their families said, 'It's so good!' I also remember doing the Bon Odori festival dance together with the elderly people and staff. It was my first time and I couldn't dance very well but it was really fun." (Ms. HOANG THI NGOC ANH from Vietnam, nursing care facility in Hyogo Prefecture)
Next, they told us about what surprised them when they worked as care workers for the first time in Japan:
・"When I worked the night shift, at first I was surprised that there was an elderly person wandering around the facility in the middle of the night." (Mr. Albert Fernandez from the Philippines, facility in Okayama Prefecture)
・"What surprised me when I became a care worker was bathing assistance. Assistance with mealtimes, toilet needs, moving and transferring were all just as I imagined, but in Japan they also assist with bathing." (Ms. Riswanti from Indonesia)
・"Dentures! In Japan, some elderly people have dentures. I hadn't really seen dentures in my home country, so I was surprised when teeth suddenly came out of someone's mouth!" (Ms. HOANG THI NGOC ANH, Vietnam)
Personal growth felt through working as a care worker in Japan
Assisting the elderly and disabled seems to change the way some people think about and approach the elderly. In addition, some people put into practice the nursing care skills they learned in Japan after going back to their home countries. Learning language skills and your experience with nursing care in a different environment than you were raised in seem to have a lot of effects on work and life later on. Let's take a look at some comments from individuals who have experience as care workers in Japan:
・"Even when someone becomes elderly or disabled, we must respect the person. I learned the importance of supporting them so that they can do as much as they can by themselves, rather than helping them with everything."
・"My aunt developed hemiplegia after a stroke and needed nursing care. Then, I could teach my relatives the nursing care skills I learned in Japan."
・"I was able to take care of my aunt who had dementia. Everything I learned in Japan was useful, especially things like bathing assistance, mealtime assistance and changing diapers."
・"I learned the importance of communication. Now I can listen to others better than before."
・"Now I can stay calm and make decisions, no matter what happens. Before getting angry with someone, now I am able to first think about whether or not I am right."
Advice from experienced care workers for those who want to go to Japan to be care workers
Going to a new environment that you aren't used to, in an unfamiliar language, and working in nursing care service for the first time all make every day a challenge. Being away from your family can make you homesick and work, language, and studying can also make for a lot of stress. Even so, many people seem to take pleasure in Japanese food and culture and enjoy their lives in Japan. For those who are thinking of going to Japan for a job in nursing care, please take a look at this advice from some experienced care workers!
・"You should study Japanese hard before going to Japan. There are a lot of things you can enjoy if your Japanese is good. Please study Japanese hard."
・You should study Japanese and the culture there seriously. It may be difficult at first, but if you can communicate well, life in Japan will not be so difficult."
・"It's important to have fun on your days off (ex. go to the movies, go see the cherry blossoms, etc.) so you feel refreshed."
・"Japan is a country with so many rules. You should get some information beforehand or learn them one by one after going to Japan."
・"A few months after I started working, I got homesick. I remembered the reason I came to Japan and encouraged myself to get over it. Things may have been difficult at first, but after I got used to life in Japan, I really enjoyed living there."
・"I wasn't able to see my family while I was in Japan, but it was ok because we could do video calls since Japan has good Wi-Fi. Also, if there are people from the same country at the facility where you work, they will be like family."